Wednesday, 4. December 2013 16:01
One of the silly qualifications I have put on this writing journey is that I not think about the topic for the day until the day itself. Luckily, this morning I was given a gift.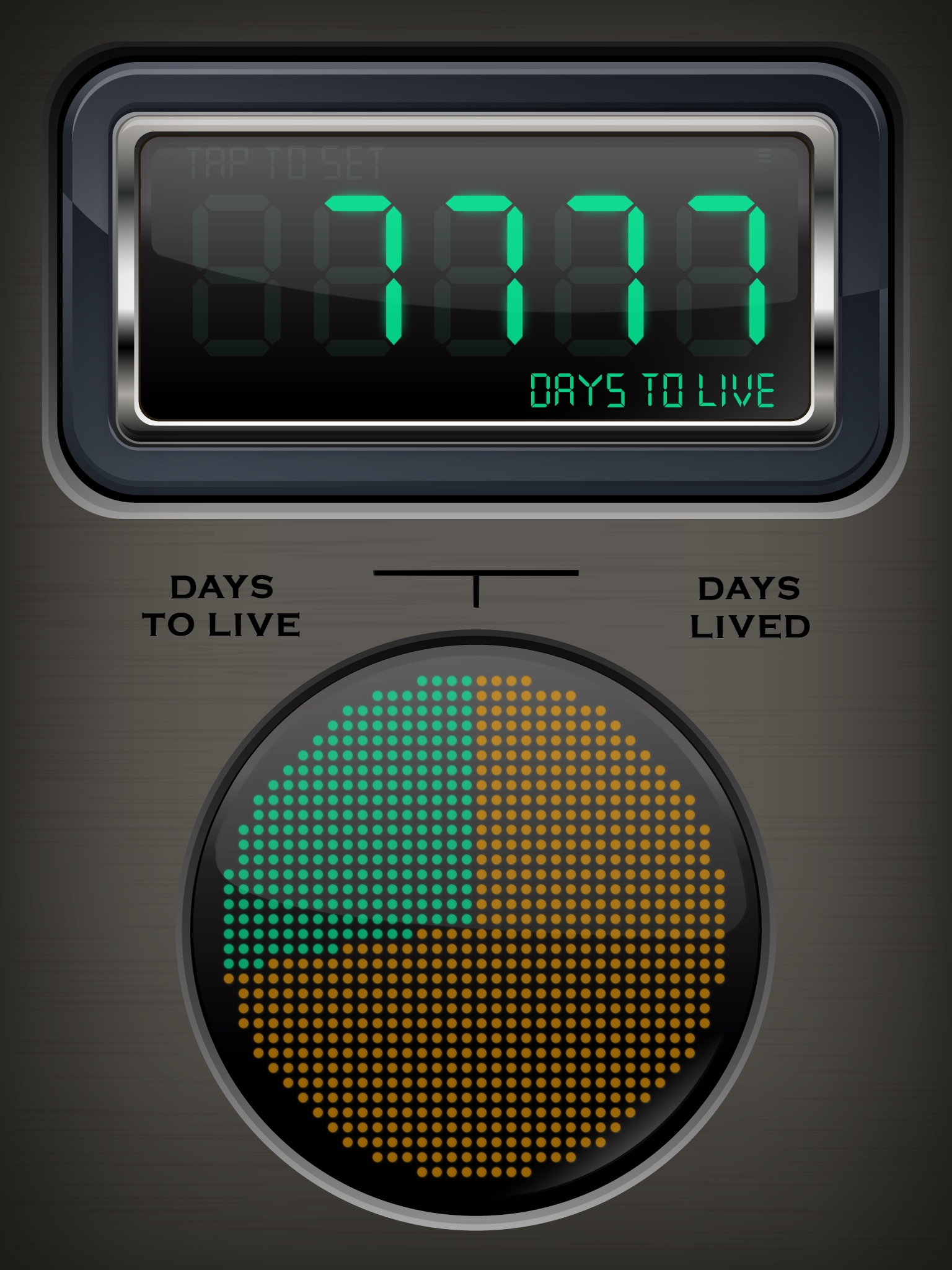 This morning I read about an iOS app called Days of Life. The 99¢ app asks your age, gender, and country and then predicts your likely age of death, illustrating this with the number of days you have left in large numerals and a pie chart indicating the number of days you have lived relative to the number of days you have left. Of course I downloaded this immediately, answered the questions, and discovered that I have 7777 days left.
I was surprised by two things. First, by the neatness of four 7s, what are the odds that I would ask of this particular day? The second was that the number was less than 10,000. If you asked me prior to today, I probably would have estimated having about that, so in a moment I lost 8 years. Of course I looked up when this would be and I discovered that I will die on my birthday, March 21, 2035. It will be a Wednesday. The app also allows me to set monthly, weekly, or daily update notifications…in case I forget.
Wait a second, I thought, there are too many factors for this to be accurate. I've never smoked, I exercise, I don't have any pre-existing conditions. If this is the actuarial data for all males of my age group who live in the US, then there must be a number who would have significantly shorter lives, so that would push my number up. Then I realized that I was arguing with a 99¢ app.
My reaction to this number in many ways paralleled stages of grieving. I was shocked, denying and bargaining (I realize these aren't the actual stages, but you get the point). Despite my intellectual knowledge of the clear untrustworthiness of…let me say it again, a 99¢ app…it felt a little like being told I have less than 22 years to live. I'm terminal.
As I thought about what all this meant I considered and discarded a number of morals. I certainly am not aiming for a hipster YOLO message. I don't want (or think it's necessary) to remind everyone of our mortality during these dying days of the year. I am also virtually certain that I won't die on March 21, 2035 (and the idea of dying on a Wednesday!), but I don't want to dwell on "you know not the day nor the hour." So I think I'll leave the experience as it is and let you draw from it what you will.
By the time I finish these 24 days I'll have 7757 days…
As always, I welcome your comments.
Image: Tick Tick. Don't use this one…use your own!
Category:Uncategorized | Comment (0) | Author: admin