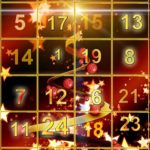 I'm sure that everyone who notes the turning of the Calendar page from November to December has a slightly different reaction to the big December 1. Some must wonder at the passage of time, pushing out 2017 before we ever really got our footing. Alternatively, some must feel equal wonder the the world might actually make it to the end of a year that has been fraught like none other. For those less concerned with global musings, the new month certainly triggers anticipation (and anxiety) for quickly approaching holidays, and Im sure there are children who can't believe that they still have to find that darn elf 24 times before it pays off.
For me, of course, it means the beginning of my yearly 24-day marathon of blogging. On the slightest of chances that there are any new readers this year, I'll explain. For the past four years, I have set a goal to write a new blog post each of the first 24 days of December in anticipation of Christmas. The themes are always completely random and dictated to me by the experinces and thoughts of the day. Though Christmas always lurks in the background of the chain, I'll write about all aspects of life as I experience it, professional and (quasi) personal. My goal is 24 short pieces here and a greater mindfulness and focus in my life in general. Thank you for participating in my yearly therapy.
I am writing in a different world from that which I started in 2016. I started today by reading some of the posts from last year in which I expressed my fears about what was to come. Sadly, most of these fears have been realized in spades, as parts of our world are far uglier, far more brutal, and far less tolerant than I can remember (and I certainly am not writing about "Baby It's Cold Outside" this year!). It has also been a year of immense personal changes for me, few of which I could have seen from the ledge of 2016.
But before you abandon me as an unneeded anchor in your own winter depression, I don't intend these posts to be primarily negative (and I hope they won't be sappy and self-indulgent). I have good news in my heart. I have found care and friendship and love of many whom I will never be able to repay. Even fate, ever the trickster, has thrown me some unexpected silver linings, even when I drove perilously near the cliff. I have great stuff to share with you…I can't wait to see what it is!
For anyone who doesn't recognize the title of today's blog, this is the opening line of Dickens' A Christmas Carol (I noted that I didn't talk about this novella at all last year, so I'm kicking off with it this year). It is the most somber of openings, which is followed by five more mentions of Marley's expiration, but for those who read past this line, the narrator assures us, "This must be distinctly understood, or nothing wonderful can come of the story I am going to relate." I hope to be relating a truly wonderful story…wonderful in every sense…and I am so grateful for you to come along.
As always, I welcome your comments
Image: https://pixabay.com/en/advent-calendar-door-golden-advent-525684/