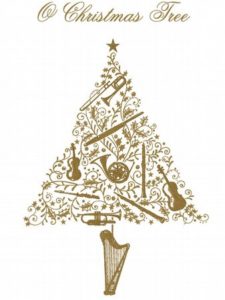 Yesterday I introduced my new fascination with creating bespoke playlists to be used for occasions. Today I am going to talk about the decisions and steps that are going into the playlist I'm making for my friends' Christmas party. My two previous experiences with this have been for dinners of six or fewer. Moving to a party environment obviously adds complexity of time and numbers and thematic purpose.
Analyzing the relationship of the crowd to the event is central to everything that follows. This is particularly tricky with Christmas, a holiday with profound but diverse meaning from person to person. A party for a church group would be relatively easy to program, choral favorites accentuating the "reason for the season," punctuated occasionally with just enough tame secular standards to acknowledge the presents coming after church. A party for children equally simple, tons of Santa songs with a few sacred carols like vegetables to remind them of the other side of the day.
Most adult Christmas parties are more complicated, as there is little consistency in views of the holiday from person to person. Also Christmas is a complex holiday, usually provoking a deluge of emotions and memories, but not all positive ones. How does one find music that respects all of this, yet provides effective background for an enjoyable event?
I've decided for this list that my underlying theme will be nostalgia. After one's early 20s, the sights, smells, tastes, and sounds of Christmas are carpet-bombed triggers of memory. The act of setting up a Christmas tree each year is a reliving of the oral history of family, comparing to past trees, remembering who did what, and laughing (or crying) about the stories of the past. The small of Christmas cooking is a Proustian link between the years. Everything is designed to remember the joys and the losses, like a crutch carefully preserved against an empty chair.
A word about timing. If I were really good at this, I would program the list in order to capture the different moods of the evening. However, that would take an inordinate amount of time and I believe I'm already over-thinking this 😉 . So I always shuffle the list, which means that songs have to flow somewhat in whatever order they occur. To test this I play the list on shuffle a few times and quickly move from song to song to see if anything sticks out or is an unpleasant transition and delete it.
My approach to this list is similar to trimming a tree, lights, ornaments, tinsel. First I lay down a base of standards, familiar songs by familiar artists. For this list I'm going for a Rat Pack, crooner vibe to help the nostalgic feeling. Sinatra, Martin, Crosby, Clooney, Garland, Cole, Mathis and others bring standard melodies by familiar voices but with instrumentation that contrasts the crass pop sounds and gives a warm feeling to the room. Next I add color with finds. New songs with a clear Christmas feel, older recordings of unfamiliar songs, or familiar songs sung by unsuspected singers. I've put quite a few treasures on this list, an old song by Bessie Smith, a couple from the Lawrence Welk family, and one by the Platters. There are also a few familiar songs in different musical styles, ukulele, surf music and Cajun. Finally I add just a few (very few) novelty songs to wink at anyone who is listening. "The Christmas CanCan" by the a cappella Group, Straight, No Chaser was one I struggled with, but I decided the feel and musicality of the piece merited including it despite the silly message.
The list is currently 62 songs, and I'm aiming for 100. I'll share the list after the party so you can weigh in on my choices.
But until then, I welcome your comments.