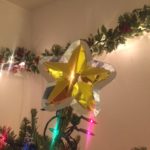 The star on top of my tree is the same star that my family used from my earliest memories.  It is a light foil star, one sheet of silver behind a sheet of gold, held together with tabs and slots that would never be used today.  In the back a ring holds the star to the post and there is a hole to insert a light (usually gold or white) to make the star shine.  The star shows its age with slight dents in the foil sheets and a frame that has been reattached many times, but given its age and general delicate construction, it is amazing that it still stands at the top of my tree every year.  This star was actually retired by my mother (the tree designer) when we started to put our tree on a revolving base, as the patchwork repairs on the back didn't work once there was no longer a back side of the tree.  I don't remember how the star came to me, though I suspect I was the first to have a tree away from home, and I gathered surplus ornaments from Mom and Dad.  The other ornaments have all been replaced, but the star remains, and I have used it on trees for more than thirty years.
When I was getting the star ready for this year (always a little maintenance for the old star, like makeup on an aging ingenue), I took a moment to also notice the box in which I store it…in which as far as I can tell, it has always been stored.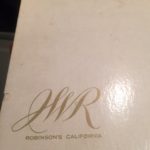 It is a white box from JW Robinson, a store that I remember, but one that ceased to exist more than ten years ago subsumed in the great contraction of Broadway, Bullocks, Buffums, May Company, Sears…oh wait, I'm slightly early on that one.  The box, though cardboard, is solidly made and permanent, not one of the prefab flat boxes of today.  This box was constructed in the factory and delivered to the store where it was stacked, fully made, with no interchangeable lid and bottom parts.  These boxes must have taken enormous amounts of room and they were terribly impractical, and for this I love it with all my heart.
This box is likely as old as I am, yet it remains relatively unharmed because it has been carefully stored every year.  Christmas is a repository of memory in both the trimmings and the containers.  This container is the star box, and it says Christmas to me as much as any other decoration, food, or song.
As always, I welcome your comments.