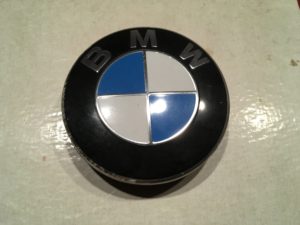 Yesterday while I was riding my bicycle, I saw a BMW emblem on the side of the road. I went back to pick it up, wondering about the poor motorist who was driving around without any identification of his or her car's superiority. I wonder if driving habits change when a BMW loses its hood ornament. Does speed come down just a couple of miles? Does a driver actually use turn signals? Is the privilege knob turned down a bit?
I brought it back, hoping that it would illustrate for me some profound moral about materialism of the season.  I put it aside and looks at it throughout the day, trying to weave gold out of straw.  And eventually I came up with….nothing.  I couldn't think of any meaning to a car without a hood ornament…no matter how nice the car may be.
Not every mine shaft leads to silver or gold.  Sometimes you just have a plastic status symbol.