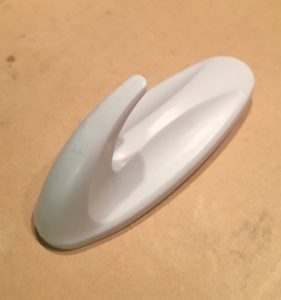 Well, I'm twenty days into this thing, so it is about time for a good, old-fashioned Christmas rant.  For all the joys and wonders of the season, there are an equal number of sorrows, frustrations, and irritations that make their regularly yearly visit.  Many of these are purely seasonal and during the rest of the year, a cloud of amnesia comes over us, so that we are newly surprised by their lump of coal appearance each year.
I hate Command Products.  These unholy spawn of the 3M company appear each Yuletide season with promises of secure support without damage to walls.  Spokesperson MC Hammer (get it? You don't need a hammer?) dons Santa suit for commercials extolling the powerful hold of these products for seasonal Christmas decorations.  You simply attach the adhesive to the hook and press to the wall.  After the season is over, simply pull the adhesive and the hook is gone and the wall is unscathed.
Which would be nice if it worked.  For the past two Christmases I have attempted to use Command Hooks to hold light objects only to end up with my hopes (and the decorations) on the ground.  Last year I tried to hold up plastic garland around the walls.  The hooks were falling as fast as I could string the garland.  Once it finally was completed (after many, many replaced adhesives), it sat for all of two hours before it fell again.  At this point I decided it was "hammer time," and nailed in tiny hooks…which worked perfectly.
This year, the amnesia in full play, I decided that my mistake the previous year was over-complicating the hanging process.  The garland obviously created torque too complex for the adhesive to endure.  This year I was going to stick to simple up and down hanging…namely my Christmas banner.  It was within the recommended weight for this hook, and it hung straight down flat against the wall, clearly a task created for this tool.  Sick, hang, straighten, mission accomplished.
Until later that night, when I in my cap had just settled down for a late fall nap.  When what to my wondering ears should awaken, the banner was falling, the Command Hook (by 3M) forsaken.  In a true show of insanity, I decided to give it one more try…expecting different results (Note to self:  Whenever we think something is insane, we quote the definition of insanity…aren't we doing the same thing expecting different results? Discuss).  As I stared at the pile of luckily unbreakable fabric on the floor only two words came to mind:  "Hammer Time!"
As always, I welcome your comments.