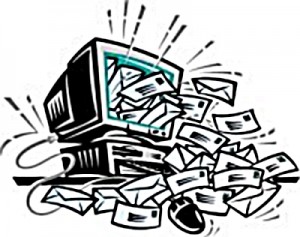 Last night I received an email at about 8:00. While I won't go into the contents, I was really disturbed. This started a flurry of emails back and forth which I was still writing at midnight.  After finishing the last email I lay steaming in bed for a couple of hours, unable to let go of the subject and composing more emails in my mind.
This morning I came into work (oh, by the way, both yesterday and today were vacation days), and as I sat down I realized that nothing I did last night had any affect.  Things still are as they are, and I'll deal with them, but I lost a lot of sleep for really no reason.
This leads to my other chief gripe with email, its ability to own us every minute of the day.  With the growth of smart phones, a larger percentage of the population carries their email box with them everywhere, I know I do, and we function with that knowledge.  I send emails all the time expecting a quick answer, even from people away from work, and I get irritated if I don't hear back in a few minutes.  I send emails at times I would never call a person, yet I expect essentially the same connection.  I have had vacation days in Hawaii ruined by an incoming message which I could do nothing about.  With all the great things we have gained through email and messaging, we have lost an essential right…the right to be left alone.
Email efficiency experts like Merlin Mann suggest that is is best not to check email often, rather to set aside two or three times in a day and process all the email received.  I have even presented this strategy in talks that I have given, but in explaining it I am a fraud, for I don't follow it in the least (at least I have the decency to tell people this when I present).  However, expectations do not match this plan, because many people (probably most people) in the workplace see email as an instant messaging system…and an instant answer is required.  When I go away I sometimes post the out of office message, but often I receive emails that start "I know you're out of the office, but I know you check your mail."
Email, and trying to tame it,  is going to be one of my major themes of the coming year.  We need to hold a worldwide conference of email to redefine the boundaries and rules (after we pass the email amnesty day).  We need to be able to say, not only am I not going to do anything about that tonight, I'm not going to think about it either.
Not a very happy Christmas Eve Eve post, but I'll finish on a happier note tomorrow…unless I receive a disturbing email.
As always, I welcome your comments.