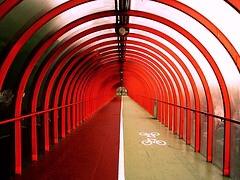 Happy Thanksgiving!
Well, here we are (or here I am, don't know how many have gone the distance). Our long national nightmare is over. This whole ill-conceived enterprise is proudly limping over the finish line (I'd make a tortoise and hare reference here, but I lack both the speed of the hare and the plodding tenacity of the tortoise). 30 blogposts have been completed in just under two months more than I proposed, a failure for intention, but a victory for good old American Puritan guilt (the Thanksgiving connection is not lost).
So today I am grateful for this blog. Like a dear, but exhausting friend (not that I have any of those) it tolerates my time away, but when I'm willing to put in the time and effort, it sends me away a better person. My reflections here, whether they are professional, practical, or personal (I hope not too personal, never intended this as a chart of my feelings) always are better focused (and sometimes changed) by putting them in public writing. Though many of the posts are not good by any standards (particularly mine…for example, I overuse parentheses) there are some of which I am quite proud either for the writing itself or for the realizations they awakened in the process.
I am also grateful for the literally threes to fives of people who read these regularly and take the time to comment. As I wrote a long long time ago, a blog does not have to be about public discourse, and there is value for the writer whether anyone reads or not. However, the time others spend reading and commenting is a gift that I see and appreciate.
Finally I am grateful to the many (unknown to me) artists who have created the images that have headed these posts. I have found most of these images at the site flickrcc.com, a site that makes available images protected by a Creative Commons license, which requires only acknowledgement, which I gratefully give. I applaud creators who understand the need for a new set of rules for sharing in the Internet which respects the rights of creators while encouraging continued and expanded use of their work.
Next week (I expect) I start again, not in a weird self-motivating race against time and numbers, but in the continued saga of a boy and his blog.
As always, I welcome your comments.
Image: 'Is there anything at the end of+the+tunnel?' http://www.flickr.com/photos/46922409@N00/1419504712 Found on flickrcc.net