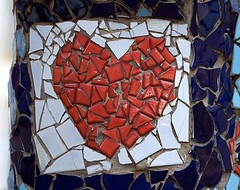 I know it's crazy, but I'm thinking of taking up with an old flame again. The voices of my friends and colleagues warn me, "You weren't happy. You were excited at first, we all got sick of you talking about it, but soon you felt unfulfilled and alone. We were just as sick of hearing about your disappointment afterward." However, despite these well-intentioned warnings and the cautioning voices in my head, I feel myself being drawn back in, convinced it won't be the same, certain that I see real change, positive that we can make it work this time.
I'm seriously considering inviting Google+ back into my life.
Long time friends and readers of this blog will remember my excitement at the launch of Google's social network (I believe in my zeal I may have used the words, "Changed the world"). The ability to put contacts into "circles" and to carry on many levels of communication, seemed a perfect solution for the complicated communication graph of so many of us. I remember describing it as "Facebook with work clothes on," as I promoted this service with friends and work associates with the desperate enthusiasm of an Amway distributer. I was forming circles with all my different groups of colleagues, and thinking about replacing other types of communication with the principals in my diocese with a huge Google+ circle.
But it didn't last. Ultimately three things soured me on my new love. First, the circles metaphor of choosing who could see individual posts and who you could see, which I found so attractive, proved impossible to explain to the casual user. I ended up setting up accounts for many of my friends and colleagues and handing it over never to be touched again. Second, the apps on iPhone and iPad were horrible, hard to follow and lacking essential functionality (for the longest time, the iPad app was simply a larger version of the iPhone app). As I moved away more and more from using a desktop machine, particularly for social networking, I was hampered with these tools and fell into Facebook and Twitter, both of which worked so well. Finally, despite the millions of users, there was a sense that no one was there. The platform seemed dedicated to technology focused individuals. Eventually I logged on less and less…drifting away with nothing but an icon on my screen to remind me of those heady days when I was completely smitten.
Recently, however, I've heard the siren song. G+ has changed it's functionality, benefits, and community. The metaphor of circles remains, but there is now an opportunity to create public or private communities. This allows me to invite and create a group easily without doing all the work myself. The iPhone/iPad apps are significantly better and beautifully support all the functions of the platform, including video conferencing. This video conferencing with up to 9 people has been improved to where it could be a real option for meetings and conferences. Probably because of these advancements, I've noticed more and more of my friends are adding G+ to their social media graph.
So, with a wary eye I'm binding up my heart and beating my way back to the Google+ door. I know that I might get burned again, but when it comes to a global social network, I wear my heart on my sleeve.
As always, I welcome your comments.
Image: 'Broken Heart' http://www.flickr.com/photos/15923063@N00/132922595 Found on flickrcc.net