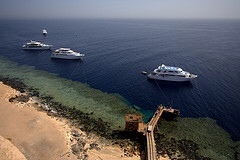 I saw three ships come sailing in
On Christmas Day, on Christmas Day
I saw three ships come sailing in
On Christmas Day in the morning.
You've probably heard it as many times as I. The bouncy joyful melody, originally from the eighteenth century, is sung by choirs, soloists, and instrumentalists. Though seldom sung as a church carol, it is familiar to all and in the regular rotation of all classical and semi-classical Christmas stations. I heard it twice this morning.
But why ships?
According to the story of the song, three ships carrying Mary and the Christ child sailed into Bethlehem. But how did this image every come into the mind of the lyricist? Of course there is no mention of ships in the Infancy Narratives. Though there is no mention of transport, all tradition suggests that Mary and Joseph would have walked or taken a beast of burden. Even if a ship were available, the closest body of water to Bethlehem is 20 miles away, so "sailing in" wouldn't be possible.
Obviously I don't mind dramatic developments to the Christmas story, but most of the stories and songs build on the scriptural base. How ships became intertwined is a mystery to me, and online explanations don't help much. There is a suggestions the lyric was tied to ships taking the relics of the three magi to Cologne Cathedral in the thirteenth century. Since it is a traditional hymn, there is no one to authoritatively give any information. Somehow this song sprang up among the English country folk, but how and why is anything but intuitive.
There are so many traditions and stories and songs surrounding the holiday. Many of them awaken nostalgia, or joy, or religious feeling.
But "I Saw Three Ships" remains a nautical conundrum. Anchors aweigh, my Lord Fa la la la la la la la la
As always, I welcome your comments.
Image: 'View from Big Brother, Egypt 2008'
http://www.flickr.com/photos/16903262@N02/2471594862. Found on flickrcc.net