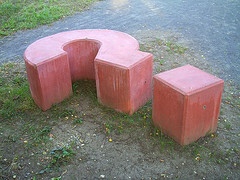 It may be the teacher thing, or it may be the Catholic thing, but fairly often I think that I am doing everything wrong.
As I have said often enough, I love presenting at workshops and conferences. When I'm in front of a good group and I have them laughingand nodding, that weird combination of teacher, stand up comedian, and pundit in me feels most at home. I get good reviews for my talks, and against all odds I to time to be invited to things. It is only natural, therefore, that so must satisfaction must be undercut by pangs of doubt.
This doubt-knife usually goes like this: Greg, you are standing in front of a group of people telling them that they need to get their students more involved in classes. Sage-like, you are announcing the death of the "sage on the stage" (often ironically standing on a stage when you say it). You have to find a way to get your audience more directly involved. And you should rinse the dishes before you put them in the dishwasher (oh, that's a different voice of self-criticism).
I make peace with these concerns by telling myself that conferences are only one type of learning, and that one would hope that a rousing talk might spur attendees to work and learn on their own afterward. A large audience and a limited presentation time do not lead themselves to group work.
However, I continue to feel the need to involve people more actively in the hour. Currently I do the classic, "Share with someone nearby," but I don't feel that this really involves them in learning; it just gives me a couple of minutes of not talking. In smaller groups, I ask questions ineffectively, and I often have people raise hands to indicate things, but still….talking head.
Perhaps this is unsolvable, but does anyone have any ideas? Has anyone seen effective audience involvement beyond attention in a middle to large group at a conference?
As always, your ideas are welcome
Image: 'Question mark in Esbjerg' http://www.flickr.com/photos/72211347@N00/327122302 Found on flickrcc.net