Tuesday, 23. December 2014 6:37 | Author:admin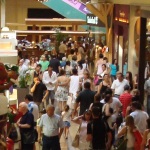 In my efforts to complete Christmas shopping today, I went to the Main Place Mall, and I ran face to face into a changing reality. Through my college years I worked in Brentano's bookstore in South Coast Plaza, the west coast Mecca of the shopping mall. I remember the utter chaos of shopping in the days before Christmas, a full parking lot, lines from one end of the store to the other, store workers besieged by customers.
Today I faced some traffic getting in, but there were empty parking spaces on both sides of my car. The mall was crowded, but many stores were empty. When I went to ask a question of a store employee, I found three talking together. Perhaps most emblematic of the quieter atmosphere was Santa sitting quietly in his chair with no line of children waiting.
Even the mall was a very differnt place from what I remembered. Of course we no longer have the long gone anchor stores of Buffums, Bullocks, May Company, and Broadway, but even the structure is different, with more and more small stands in the middle of the aisles. These tiny boutiques give the entire mall a feeling of a swap meet.
Finally, there was me. As I marveled at how different everything looked, I realized that it had been over a year since I had visited this mall…or any mall. From someone who would go regularly to do regular shopping in malls, I've become as unfamiliar as the out of towner marvelling at the big city. There was I time I went to a mall just to go…now I virtually never have a reason to go.
To anyone who doubts that significant change is coming, I offer up the shopping mall. In the 70s, 80s, and 90s, no one could ever picture that the mall wouldn't be the center of the shopping universe. Today, however, most malls have long since lost this favored status as they struggle to remain relevant. Things can (and do) change.
Oh, and to quickly conclude my story, I couldn't find what I wanted, so I took out my phone to order it on Amazon. 1 click and it should be at my house by Christmas Eve.
As always, I welcome your comments.
Image: https://c2.staticflickr.com/8/7200/6807778092_77056b0b9b_b.jpg
Category:Uncategorized | Comments (2)