Thursday, 19. December 2013 4:33 | Author:admin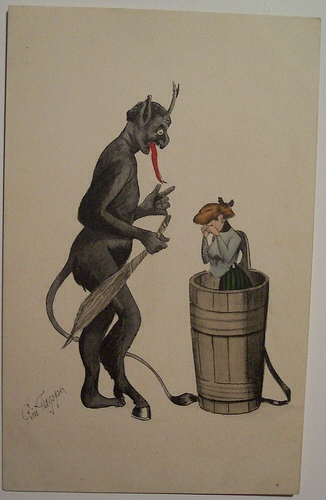 I had to go back and check the last two years to see if I had written about this before, but I couldn't find anything, so here goes.
Among the many bizarre traditions associated with the Christmas celebration around the world, one of my favorite is a little-known figure named Krampus. The tradition is most likely of Germanic origin, though it spread through the entire region. Krampus is a horned, beast-like creature who is the counterpart to St. Nicholas. As St. Nicholas would reward good children, Krampus would punish the naughty (a much more frightening embodiment of coal in the stocking). In many countries the eve of the feast of St. Nicholas is called Krampusnacht as the beast would come to town and either frighten naughty children or (in some tellings) put them in a sack and take them away.
Of course this tradition has led to many celebrations involving costumes and, of course, alcohol. Sometimes the figure of Krampis accompanies St, Nicholas, doling out punishment while the Saint focuses only on the good children. In some German communities, the tradition of exchanging greeting cards with the image of Krampus Krampuskarten continues to this day.
I have just been informed by my wife who was walking by while I'm writing that Krampus was featured on a recent episode of Grimm, so the legend lives on.
The thing I find interesting about Krampus is this human need to capture the duality of existence. St. Nicholas represents generosity, good will, and joy, so there must be a second figure to reflect the darker angels of our own nature (my wife describes Krampus and Santa's evil twin). We do not believe in the possibility of reward without the threat of punishment.
When I was in the classroom, I had my students pick term paper topics from a hat. I loved the lifelike randomness of the process. Once I suggested to the students that I should put in a slip of paper that would excuse the chooser from writing the paper while giving him or her an A on the assignment. The students obviously liked this idea. However, I continued that if I did that, I would need to also put in a slip that said the chooser would get an F. In saying this, I was giving voice to Krampus, not evil, but an equalizer. I never did this for various ethical and professional reasons, but it was an interesting discussion.
I'm not saying whether this is good or bad, but it certainly is human. You better watch out, you better not cry, you better not pout I'm telling you why…Krampus will come and put you in his bag to take you away where you will never be seen again!
As alway, I welcome your comments.
Image: 'Vintage Christmas Krampus Postcard'
http://www.flickr.com/photos/66974474@N00/327822121 Found on flickrcc.net
Category:Uncategorized | Comment (0)