Friday, 18. December 2015 5:39 | Author:admin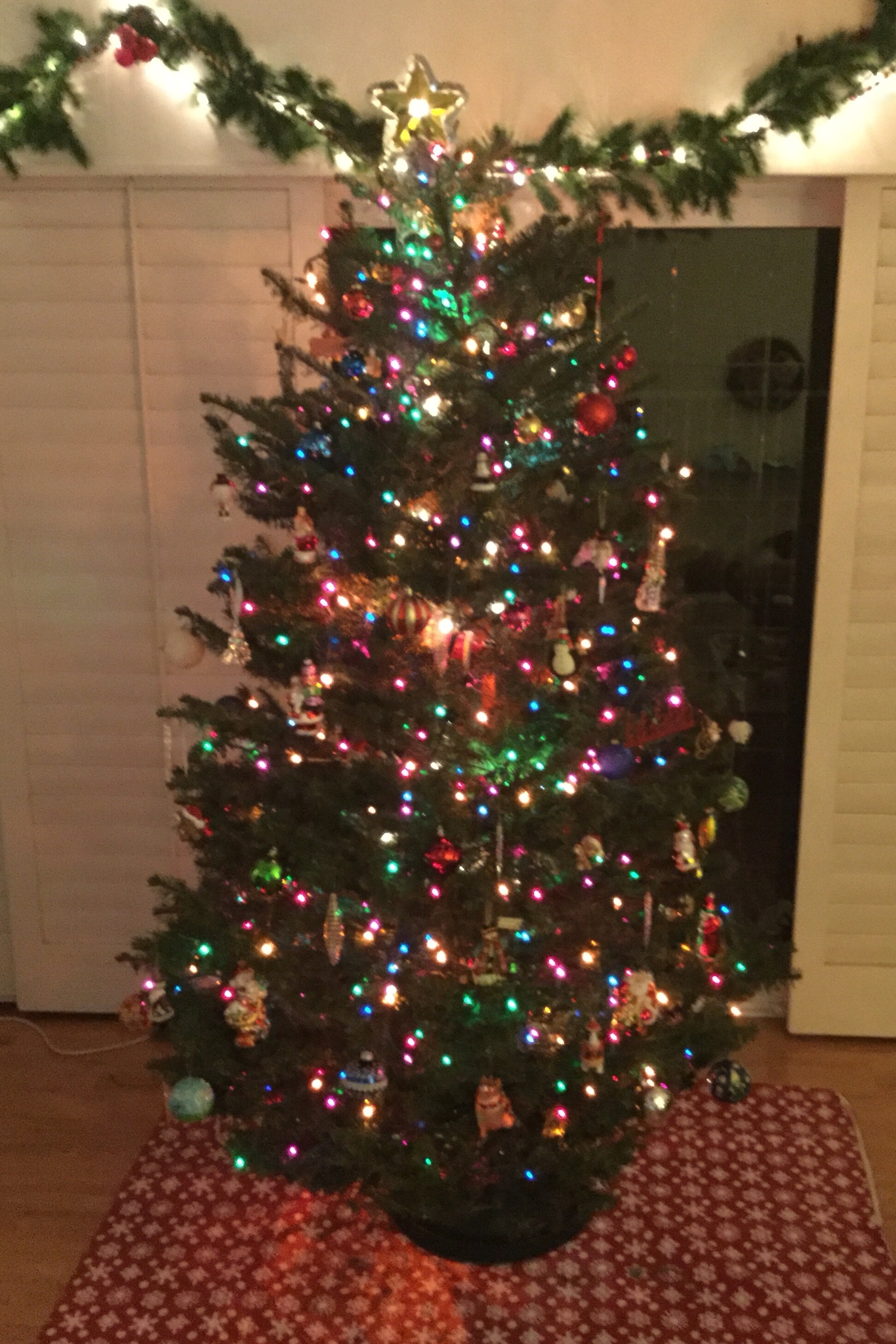 Today was the day we set up the Christmas tree. Actually the tree this year was a bit of an adventure. Since we have dogs, we have always purchased a smallish tree and set it up on a table. My wife and daughter went out yesterday and bought a beautiful, perfectly shaped small tree for just this purpose. However, when I took it out of the car, I was surprised to find it taller than me. When I said this to my wife, she swore the tree was shorter than she is, so this posed an interesting conundrum, how it could be shorter than she and taller than me.
Ultimately, we decided that the lot had mixed up trees during the fresh-cut process and somehow we ended up with a tree that was about 6'5″. This didn't fit into any of our plans. We discussed cutting it off, or taking it back, but neither of these seemed very practical. The tree was pretty, but nowhere near as well shaped as the tree they selected, and though we decided to go with it, as there was really nothing else to do save buying another tree and discarding this one, which was offensive from both an ecological and economically standpoint, I felt uncomfortable and angry that things were not going according to plan and tradition.
So this afternoon I put on the lights and ornaments, and the tree is gorgeous. The less than perfect shape is not noticeable when covered with lights and colors. The (very first world) problem of receiving the wrong tree has yielded something beautiful. Something we wouldn't have seen if our plans had not been forcibly altered.  As I think back through the many many years that we have put up a tree, this is a constant theme. No matter how the experience of getting the tree went, or what shortcomings it had, once decorated, it was always splendid.
I have remarked before about this time of year coming to us in metaphors, and I think I was walloped by another. As long as I held to my plans, this mishap was a problem, but once I stopped fighting and went along with it, it turned out beautiful. So many Christmas preparations go exactly like this. We have a plan and the world is highly skilled at confounding this plan. As long as we fight this confounding spirit, we are miserable. But as soon as we go with the direction in front of us, beautiful things can happen.
The original Christmas story was very much like this. The plans of the couple were thwarted by decree and by over-capacity booking. However, by succumbing to the chaos, and embracing what was in front of them, light came into darkness.
My parents' house is a little darker this year. My Dad informed me yesterday that for the first time in their married life of fifty-seven years, they wouldn't be setting up a Christmas tree. With few visitors and my mom's health challenges, it makes good sense, but it is amazing how disorienting this must be for them and is for me. Their beautiful tree on a motorized rotating stand (operated with a magic wand and the words "Prestidiga-potato, Presto!" ) was an essential part of Christmas, and that mooring point is gone for all of us. Here's hoping that by embracing this and the many other changes in this area, that we can create something beautiful. But just like my initial reaction to the overtall tree, right now I'm having a hard time seeing this.
As always, I welcome your comments.
Category:Uncategorized | Comment (0)